The Florida Health Care Association (FHCA) recognizes Linda Leblanc, a CNA at Heather Hill Health Care Center during National Nursing Assistants Week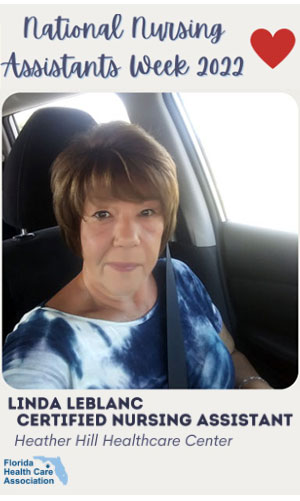 Linda has been at Heather Hill for 9 years. She leads each day with compassion and has been an amazing mentor to everyone. "I truly love being a CNA. The comfort I can give to the young or elderly brings me much pleasure; the accomplishment of going home when my day is over knowing that I made someone smile means so much to me."
Linda Leblanc gets joy out of bringing comfort to her residents and putting a smile on their faces. "Being a CNA is not just a job, it's my family," she says.
View post here: https://www.facebook.com/photo?fbid=453623366768262&set=a.348367103960556
Every resident enjoys being around Linda, and she goes above and beyond to make each day special. We are incredibly proud of Linda and her achievements. Being surrounded by such compassionate and devoted employees, like Linda in our Heather Hill family is a true blessing.
Heather Hill Healthcare Center Celebrates Nursing Home Week
Heather Hill Healthcare Center celebrated Nursing Home Week from Monday, May 9 to Friday, May 13! Our Nursing Home Week celebration recognized the amazing healthcare professionals that have tirelessly cared for our residents at Heather Hill Healthcare Center.
Each day, we held Hawaii luau-themed activities that included staff, residents, and family members. While dressed in our best Hawaiian-style outfits, we partook in buffet-style lunches, hula-hooping, dancing, and socializing. We also had a Kona Shaved Ice Truck stop by to help cool us off at the end of the week!
The week was so much fun for all of us here at Heather Hill Healthcare Center! We are incredibly grateful for our dedicated staff, and we are so glad we got to celebrate them.
A Hero at Heather Hill
New Port Richey, FL (October 21, 2021)
Michelle Andrews, was in the facility performing her Respiratory Job for BayCare when she started having chest pain. Michael Perry, a nurse at Heather Hill Health Care, immediately jumped into action and called 911. On the advice of 911, Michael gave her aspirin and stayed with her while we waited for EMS. She had a blood clot in her heart and due to Michael's swift actions along with his kindness and concern, he saved her life. "I am feeling much better and I want to thank My Heather Hill Hero Michael Perry" Michelle Andrews states.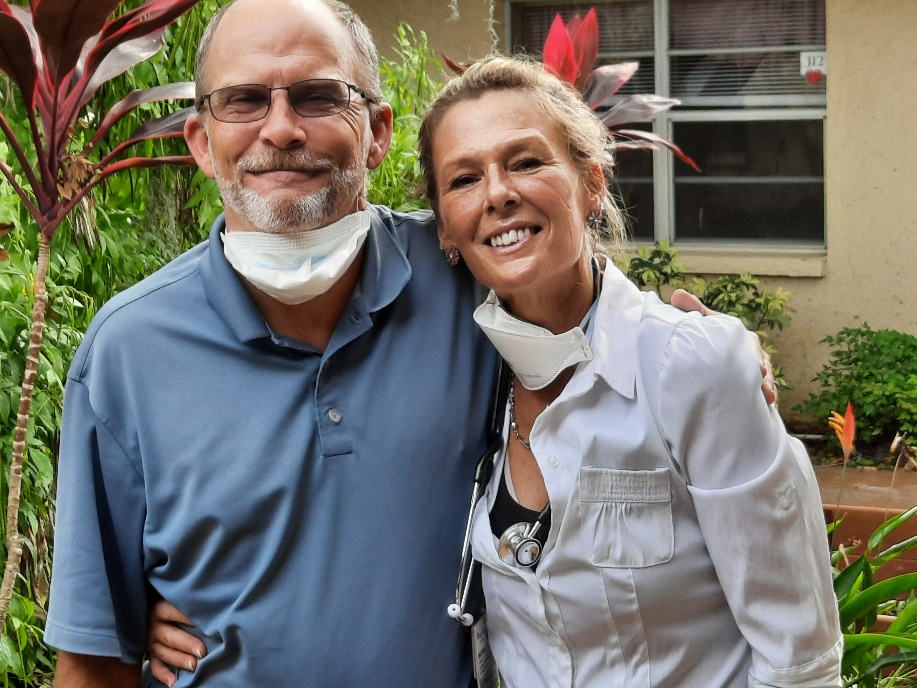 Heather Hill Healthcare Center Donates $15,600 to Nursing Students
And provide crucial hands-hands-on clinical experience
NEW PORT RICHEY, Fla., Aug. 27, 2021 /PRNewswire/ — On Friday of last week, Heather Hill Healthcare Center presented a donation check of $15,600 to the PHSC Foundation. The generous donation will cover $1,300 in tuition for twelve currently enrolled students in the Practical Nursing (PN) program at Pasco Hernando State College. The facility also committed to train, mentor, and provide internships to enrolled nursing students this year.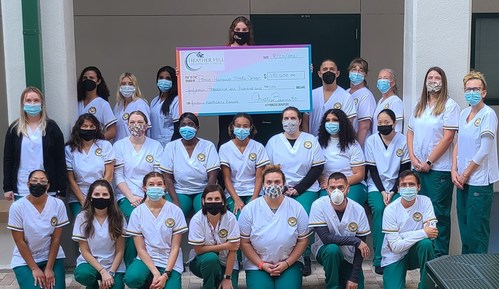 "Heather Hill Healthcare Center is honored to partner with Pasco-Hernando State College and contribute to the success of our future healthcare heroes," said Christina Brancato, Administrator at Heather Hill Healthcare Center.
NursingProcess.org ranks PHSC's LPN program first of more than 160 LPN programs approved by the Florida Board of Nursing
About Heather Hill Healthcare Center
Heather Hill Healthcare Center is a 120-bed, Joint Commission Accredited, not-for-profit, skilled nursing and rehabilitation facility in New Port Richey. It is the only skilled nursing and rehabilitation facility in West Pasco County equipped with a secure memory care unit. For more information: https://hhhcare.org/
About Health Services Management
Health Services Management has extensive experience and a proven track record as an operator, manager, and owner of skilled nursing and long-term care communities since 2000 and currently operates nineteen skilled nursing facilities, and two assisted living communities in Florida, Texas, Indiana, and Tennessee. The Health Services Management network proudly employs more than 2,000 individuals and has developed multiple long-lasting strategic partnerships in each of the communities that it serves. The management team continuously seeks out and evaluates facilities for acquisition to provide continued company growth. For more information: https://www.HSMgroup.org